Amazing product
Everything is good. Although good things are not cheap but still hope that we can have more discount on the pricing as specially from the delivery charges.
great lock
The lock feels strong and looks great.
Good Service From Vizilok
The service from Vizilok is really good and fast, we received responses very quick and when we complete our order this was shipped on time.
The bad think is that this was shipped via US Postal Service and that deliver to Mexico postal service which doesn´t have very good service, this causes delays in final delivery. Eventhough the product was shipped 19 days ago, we received it last friday, that means around 15 days after it was shipped. I would like you to quote a courier service as FedEx or UPS. Thanks..
best locks ever bought
every teacher loves these locks they advised me we should have done this sooner no more knocking on doors in case person was in bathroom and walking in on the person now they can tell if bathroom is occupied they think the locks are great.
Awesome need more key's
Please Contact me so I can get more.
ADDED SECURITY WITH KEYS
This Privacy Lock in Satin Chrome has an additional key cylinder with two keys.
This lock can only be unlocked with the included keys. It does not have the option to unlock from the outside with a screwdriver or coin. This provides a greater level of privacy and safety for sensitive spaces such as restrooms or changing rooms. This model is ideal for commercial properties and office buildings with public restrooms or changing rooms.
BEAUTIFUL DESIGN
This Privacy Lock with Occupancy Indicator in Satin Chrome finish brings both superior form and function, adding an element of contemporary flair while standing up to the use and abuse of your most trafficked areas.
ENGINEERED FOR CONVENIENCE
Vizilok's convenient all-in-one design means you get the combined function of a door handle, lock, and indicator in a single piece of hardware. Vizilok automatically displays "IN USE" or "VACANT" when locked or unlocked.
Vizilok visual indicator door locks help businesses comply with International Building Code (IBC) 1110.2.1.6, added in 2021, which requires that all family or assisted-use toilet and bathing rooms be equipped with an "occupied" indicator.
EASY INSTALLATION
No drilling. You only need a screwdriver.
MORE PRIVACY AND MORE SECURITY FOR YOUR ROOMS
Single-toilet restrooms

Medical examination rooms

Changing rooms

Conference rooms
MAKE PEOPLE FEEL SAFE AND SECURE
Door handles have a major problem. You have to pull on them to see if they are locked. When this happens with a restroom, it is uncomfortable and embarrassing for everyone. Vizilok door handles display "IN USE" or "VACANT" so that every private room can feel pleasant, safe, and secure.
Your restrooms could be making your customers and employees feel embarrassed and unsafe.
BUY VIZILOK DOOR HANDLES

INSTALL IN MINUTES

MAKE PEOPLE FEEL SAFE AND SECURE
You may also like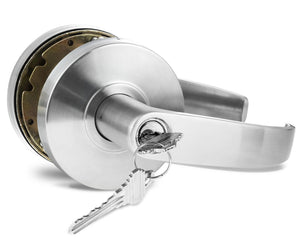 Heavy Duty Door Lock Entrance Lever
View Details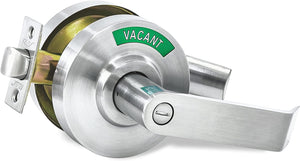 Heavy Duty Commercial Door Lock with Indicator
View Details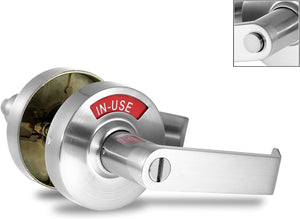 ADA Door Lock with Indicator in Satin Chrome - Right-Handed
View Details
Main Features of VIZILOK Privacy Indicator Locks
Extra Durability
Flat head screw on the button for extra durability.

Occupancy Indicator
Large and visible IN-USE or VACANT indicator.

Easy Installation
Inside rosette has 2 countersink screw holes for easier installation and adjustment.

Increase Security and
Privacy of your Restroom
Our indicator locks are created to increase security and privacy of your restroom. Perfectly fit any types of doors in restaurants, offices, shopping malls and medical offices.
Benefits of VIZILOK Privacy Indicator Locks
VIZILOK VIP List
Sign up for the Vizilok Exclusive Offers Email. We send one special offer per month, every month. You'll never know what you're missing until you join the list.