Great Product!
I have been recommending these to customers in lieu of push/pulls or passage levers with occupancy deadbolts.
ADA Door Lock with Indicator in Antique Brass - Left-Handed
perfecto :)
this lock is a good addition to our design. they also provide great service and fast shipping
Replacement Lock
The company was quick to respond to my questions and really easy to work with.
Thank you for your review! We are working hard to provide the best service and quality to our customers!
ADA COMPLIANT DESIGN
This Door Lock is ADA compliant with a user-friendly one-touch lever that is easily operated by anyone with a physical challenge. The Antique Brass finish will add a glowing touch of warmth to any space. This ADA Door Lock is commercial quality and is perfect for medical practices, hospitals, rehabilitation facilities, and retirement communities.
PATENTED TECHNOLOGY
The patented Vizilok design means you get the functionality of an ADA-compliant one-touch opening action with the added security of an all-in-one visual indicator lock. Vizilok's ADA-compliant one-touch action allows the door to be opened with a single movement – no need to turn the door handle. And of course, Vizilok's visual indicator automatically displays "IN USE" or "VACANT" when locked or unlocked.
Vizilok visual indicator door locks help businesses comply with International Building Code (IBC) 1110.2.1.6, added in 2021, which requires that all family or assisted-use toilet and bathing rooms be equipped with an "occupied" indicator.
EASY INSTALLATION
No drilling. You only need a screwdriver.
NON-REVERSIBLE
Left-handed door application only.
MORE PRIVACY AND MORE SECURITY FOR YOUR ROOMS
- Single-toilet restrooms
- Medical facilities
- Senior and assisted living communities
- Hospitals
MAKE PEOPLE FEEL SAFE AND SECURE
Door handles have a major problem. You have to pull on them to see if they are locked. When this happens with a restroom, it is uncomfortable and embarrassing for everyone. Vizilok door handles display "IN USE" or "VACANT" so that every private room can feel pleasant, safe, and secure.
Your restrooms could be making your customers and employees feel embarrassed and unsafe.
1. BUY VIZILOK DOOR HANDLES
2. INSTALL IN MINUTES
3. MAKE PEOPLE FEEL SAFE AND SECURE
You may also like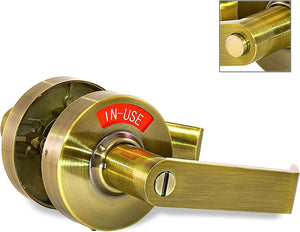 PRE-SALE ADA Door Lock with Indicator in Antique Brass - Right-Handed
View Details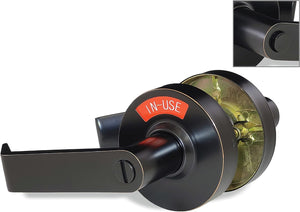 ADA Lock with Indicator in Oil Rubbed Bronze - Left-Handed
View Details
Main Features of VIZILOK Privacy Indicator Locks
Extra Durability
Flat head screw on the button for extra durability.

Occupancy Indicator
Large and visible IN-USE or VACANT indicator.

Easy Installation
Inside rosette has 2 countersink screw holes for easier installation and adjustment.

Shop the Best ADA Compliant Locks On The Market
Our bestselling all-in-one lock now closes with a single push of a button and is ADA-compliant. Features In-Use and Vacant indicators, and inside rosette with screw holes for easy installation and adjustment.
View Collection
Benefits of VIZILOK Privacy Indicator Locks
VIZILOK VIP List
Sign up for the Vizilok Exclusive Offers Email. We send one special offer per month, every month. You'll never know what you're missing until you join the list.